Showcasing the talents of local artists!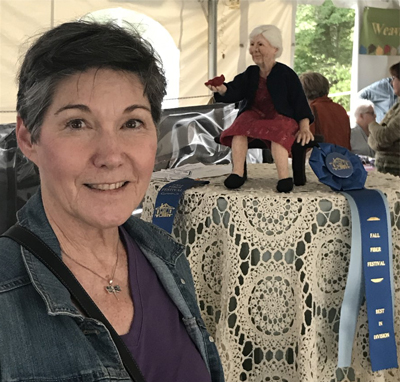 Gudrun Kiel-Bullock
Providence Forge
Creating art has always been a main focus in my life. Professionally, I worked as a graphic designer for many years while also pursuing other creative activities.
I moved to Virginia 16 years ago and spent the first 6 years as a wildlife rehabilitator raising mostly orphaned baby squirrels. In 2012 I returned to art in the form of drawing in graphite, charcoal, and colored pencils. Fiber art has always interested me and I discovered felting in 2015.
Creating in fiber – wet and needle felting as well as tapestry weaving – is currently where my journey has taken me. In felting, I enjoy the challenge of starting with loose wool fiber to form my vision into a picture, vessel, or sculpture. I find both felting and weaving meditative in its repetitiveness and I like that I am using ancient art forms to create something contemporary. But no matter what form creation takes, for me, it is always about the joy of finding that seed of inspiration and seeing it come into form.
My art has been accepted in many juried shows and has won awards. I am a member of the Williamsburg Spinners and Weavers and currently exhibit at the Art Speaks Gallery in Mathews. I also teach classes in felting and weaving.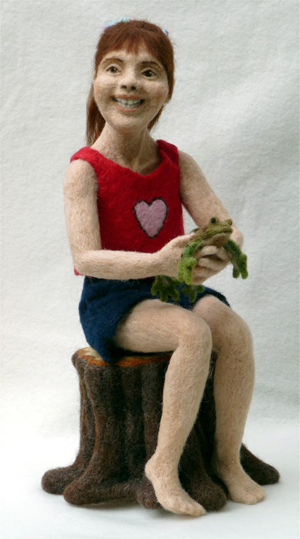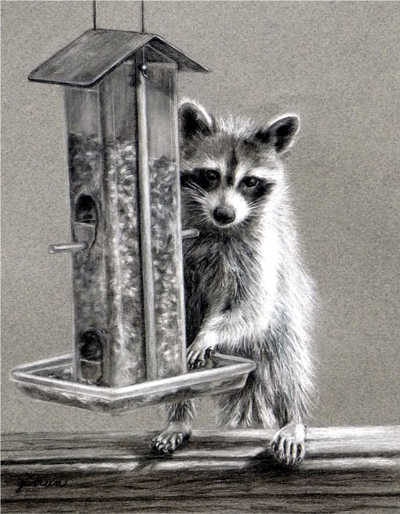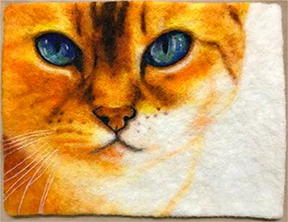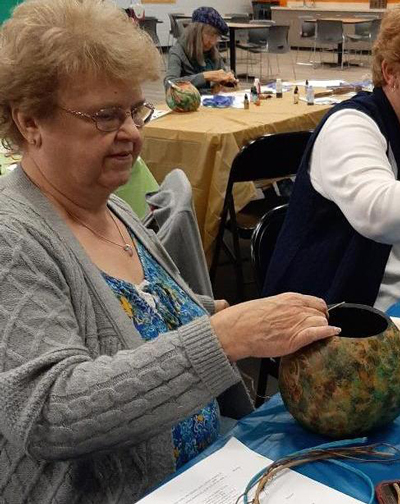 Nita Bunting
King & Queen County, VA
I was born and educated in King and Queen County, Virginia, and attended classes at Rappahannock Community College before moving to Richmond. I worked as a bookkeeper at Southern Biscuit Company, aka FFV Cookies, for a couple of years and was then promoted to Assistant Purchasing Agent for the company. After a few more years, the call of country life brought me back to King & Queen County.
Soon after the birth of my third child, I applied for a job at the King & Queen County Treasurer's Office, where I was appointed Deputy Treasurer. The retirement of the Treasurer brought an advancement opportunity. I ran for the office in the fall of 1983 and was elected and sworn in January 1984. I served five terms, for a total of 20 years as Treasurer of King & Queen County. During this time, I took classes through the Weldon Cooper Center for Public Service at the University of Virginia and earned the title of CGT, Certified Governmental Treasurer.
Retirement brought on more opportunities: spending time with the grandchildren, painting at an art studio, quilting with several different groups of friends, participating in church activities, in the Woman's Club, at Arts Alive, stained glass projects, craft projects… the list goes on!
Most of my inspiration comes from my family – husband, 3 children, 6 grandchildren, and 2 great-grandchildren.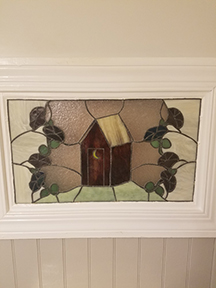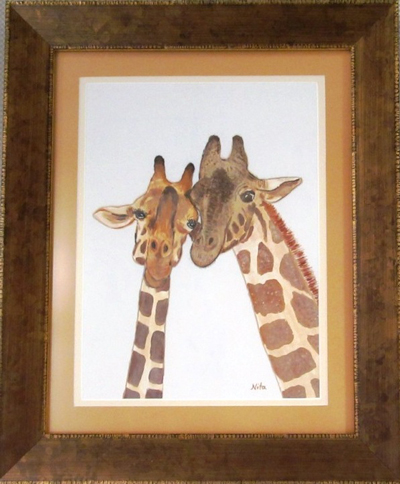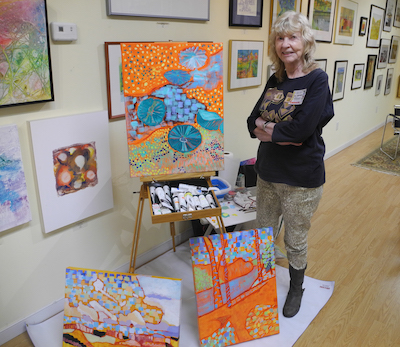 Mary Montague Sikes
Artist and Author Mary Montague Sikes (Monti) enjoys painting intuitively to create her colorful works of art. For years, she has used Robert Doak intense watercolors on Yupo, oil and cold wax on paper and cradled board, and acrylics on canvas as her favorite materials to bring joy and magic to the works she produces. Her journey began in childhood in Fredericksburg, Virginia where she played by the Mary Washington College campus and listened to student harp recitals at a nearby home. Her love of fine arts continued with the discovery of acrylics at the College of William & Mary and the development of large works on canvas when she earned her MFA at VCU. She draws, paints, and writes in studios in her beloved woods in West Point. She teaches painting workshops for Arts Alive, for Gloucester Arts on Main, and for the Art Academy in Hilton Head, SC.
Artful Angels, meditation for your coffee table, is her latest book. She is the author of the popular An Artful Animal Alphabet, a hardcover book for children and adults.
Her art is for sale in her gallery at Crossroads Art Center in Richmond: Mary Montague Sikes | Crossroads Art Center
Visit her website at www.MontiSikes.com
Also, www.marymontaguesikes.com
https://www.facebook.com/MaryMontagueSikes2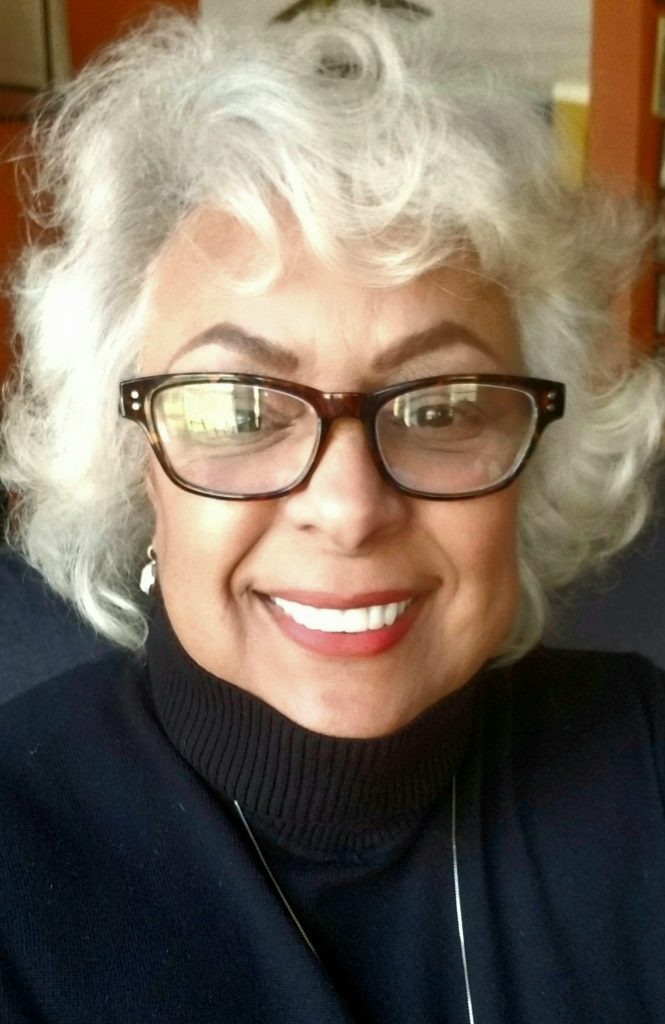 Leslie Babbitt Belcher
Barhamsville, VA
My name is Leslie Babbitt Belcher, known as "Babbitt." I am a Cape Verdean American. My four grandparents immigrated from the small island of Brava, Cape Verde Islands, a former Portuguese colony off the west coast of Africa. My paternal grandparents left the islands with their three small children and had ten more children after arriving in the United States. My father was one of the ten. They arrived in the United States in the early 1900s in the port of New Bedford and settled in Wareham, Massachusetts, where I was born. As an adult and as a single mother of two children, I moved to Boston where I began Babbitt Designs, Inc. After a successful 36-year career, I met, fell in love with, and married James Roland Belcher of West Point. We built our home in Barhamsville, where I have my current business, B and B New Beginnings. My deep roots and powerful awareness of my Cape Verdean heritage have enhanced every aspect of my passion for dynamic colors, whether brushing a canvas, cutting cloth or creating Cape Verdean inspired recipes. As a board-certified healing arts practitioner, I am deeply connected to the energy of supporting, healing, and inspiring those in need, and I thank my father and his authentic Cape Verdean legacy for instilling in me those very abilities. I hope that the personal wisdom I have gained as a full-time caregiver and as a student of life shared in my series entitled "In the Meantime" has touched the hearts of many with comfort so needed during this pandemic. My new Relax, Release, and Rejuvenate classes, which include yoga, isometrics, meditation, and hydrotherapy, affirm my commitment to mental, emotional, and physical health and well-being.
P.O. Box 906
West Point, VA  23181
(804) 843-3475
Hours: Mon, Tues, Thurs from 10am-4:30pm